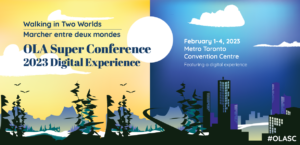 Digital Experience Registration
This year, OLA will be offering a Digital Experience stream to extend the OLA Super Conference programming to those who are unable to attend the conference in-person. In-person attendees will have on-demand access to this content as part of their registration.  All programming will take place online, see the full schedule below.
How do I sign up for the Digital Experience Stream?
You will have the option to register exclusively as an online attendee for the Digital Experience. Pricing information can be found here.
A Digital Experience ticket provides:
• All streamed keynote, spotlight and over 40 workshop sessions unique to the Digital Experience stream
• Full access to the Library Trustee Boot Camp (Saturday)
• On-demand access to all recorded content for 6 months
• Access to the EXPO 2023 program and directory
• Access to live chat conversations focused on current library issues
• Virtual social events
Digital Experience Program
Wednesday February 1, 2023
1:00pm ET
Connecting Outside of the Library World: Building a Learning Garden
"Sometimes the work I do feels racist:" Anti-Racism Audits and Organizational Change
Building Inclusive Libraries One Step at a Time: Kindness, Equity, and Candidate Experiences in Hiring
Digital Literacy, Nature, Community and Health: the MPL Trail Project
For the Love of Reading: Engaging Staff in Reader's Services
Ontario Public Library Guidelines: Peer Review for Public Libraries
2:45pm ET
Anti-Black Racism Working Group – Placing Lived Experiences at the Centre of Redesigning
Discord & Teens: Beyond Library Spaces
Every Child Deserves A Place With Us: Sensory Storytimes & Sensory Kits
Information Books, Critical Thinking, and the Areopagus
Multimodal Literacies: The Superpowers Inherent in Reading Comics
Small Public Library Perspectives: A Panel of Perth County Libraries
4:00pm ET
Featured Speaker – To Be Announced
Thursday February 2, 2023
9:00am ET
Opening Keynote: Featuring Vivek Shraya
10:30am ET
Technology Spotlight – Featuring Cory Doctorow
Both Sides Now: Growth through Shared Learning in Mentoring Relationships
Code of Ethics for Cataloguers: Consulting the Canadian Cataloguing Community
The Job Hunter's Toolkit: How to Track and Measure Your Job Search Progress to Maximize Success
Welcome Aboard! The experiences of four early-career health sciences librarians
Live Chat: Reader's Advisory
Jusqu'où aller? Panel sur le télétravail dans les milieux des bibliothèques
1:00pm ET
Health Libraries Spotlight – Featuring Helen Reilly
Assessing the Impact of Students' Engagement and Mental Health on Academic Integrity During COVID-19 Pandemic
It doesn't have to be either/or: Reconciling Indigenist and Western ways of organizing information on a Library website
The Diversity Audit: Ensuring a Balanced and Inclusive Library Collection
When Worlds Collide: Transferable Skills and the Library Workforce
2:45pm ET
Indigenous Stream Spotlight – To Be Announced
Care and Accountability in Library Leadership
The Dewey Divas and Dudes Present Books That Reflect our Changing World
Co-Designing with French Learner Youth: Reading as Engagement
Live Chat: The Librarian Parent: Balancing Heart and Mind
4:00pm ET
End of Day Keynote: Featuring Anand Ghiridharadas
Friday February 3, 2023
10:30am
Entering the new realm of discovery and interlibrary loan with Rapido
Practical digital accessibility for public library websites
Provider and User: Supporting yourself using GitHub
Walking Together: An Investigation of Indigenous Students' Relationship to the Academic Library
Traditional with a Twist – Obtainable library services for small libraries
Live Chat: Career Centre
1:00pm ET
Careers Spotlight: Featuring Fiorella Callocchia
Data Detox: Challenging Students to Take Control of Their Digital Lives
How can you be a disability ally?
Jack of All Trades, Master of Some: What it takes to serve seemingly disparate populations simultaneously
Libraries and the Climate Crisis: OLA Climate Action Committee and Localizing SDGs
Why YA Books Featuring Rural LGBTQ2IA* Teens Matter for All Readers
Yo, les jeunes! : comment les bibliothèques s'adaptent en consultant les 10-20 ans
2:45pm ET
Academic Spotlight: Academic Library Curriculum as Knowledge Justice
Metadata Best Practices for Trans and Gender Diverse Resources
Pay Equity 101 for Libraries
Story Stream: Video Production as Programming
Talking in two worlds: A conversation with CFLA-FCAB's first Indigenous Chair
What a Building Systems Approach offers to Library Design
OLA Copyright Update
4:00pm ET
Closing Keynote: Featuring Elamin Abdelmahmoud
Saturday February 4, 2023
Library Trustee BootCamp Program
Program – To Be Announced