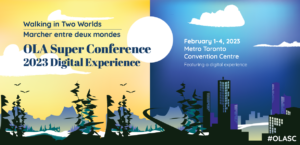 Digital Experience Registration
This year, OLA offered a Digital Experience stream to extend the OLA Super Conference programming to those who are unable to attend the conference in-person. In-person attendees have on-demand access to this content as part of their registration.  All programming took place online, see the full schedule below. Access to the recordings is available.
How do I purchase access to the recordings of the Digital Experience Stream?
Register as an online attendee for the Digital Experience below and you'll be emailed access to the recordings. Pricing information can be found here.
A Digital Experience (recordings only) ticket provides:
• All streamed keynote, spotlight and over 40 workshop sessions unique to the Digital Experience stream
• Full access to the Library Trustee Boot Camp (Saturday)
• On-demand access to all recorded content for 6 months
• Access to the EXPO 2023 program and directory
Digital Experience Program