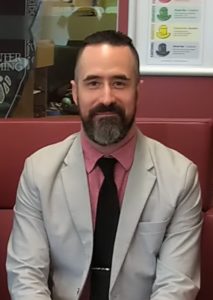 Steven Kraus has served Northern Ontario Public Libraries for some 15 years in a variety of capacities out of Ontario Library Service – North in Sudbury Ontario. For the majority of his career with the Ontario Library Service, Steven has been working with public library boards in areas such as board training, library governance, strategic planning, policy development and troubleshooting the complex landscape of Board / CEO relationships and dynamics with CEO's and Board Members alike.
Driven by the passion and excitement behind each and every interaction with clients and in service to their communities, Steven continues his work for the broader public library community in the province via his membership on the Ontario Public Library Guidelines Monitoring and Accreditation Council, engaging in exciting joint collaborations with his esteemed colleagues at the Southern Ontario Library Service and various away from work research projects with his fellow librarian colleagues across the province.
Steven graduated from Laurentian University with a degree in Political Science and Communications in 2004, received his Master's in Library and Information Science from the University of Western Ontario in 2005 and acquired a post graduate certificate in Strategic Planning for the University of Toronto – FIS program in 2007.
Away from work you'll most likely find Steven in the woods of Northern Ontario Hunting, Fishing or Kayaking on a pristine lake, spinning records or interviewing artists on CKLU 96.7FM Campus and Community Radio or slinging a guitar in some musical project in the Sudbury music scene.